Taluks of Pudukkottai
1.Aranthangi
    The second largest town in Pudukkottai district after the headquarters. Aranthangi was the most populous locality in the south of the Thanjavur district till it was added to Pudukkottai. It is lies 10 deg. at north in latitude and 70 deg east in longitude and lies 32.31 M above Mean Sea Level.
The main centre of attraction is a ruined fort. The walls are not constructed of brick or stone. Large interstices are filled with mud. There are no ruins of palaces or any other striking building inside. There is no indication when the fort could have been built. But, a line of Tondaimans who were unconnected with those of Pudukkottai, were in power here in the fifteenth and sixteenth centuries, and it is believed that they constructed it. The temple of Rajendra Chola varma in the town seems to have been built in the eleventh century. The two main State Highways passing through this town namely Thanjavur-Sayalkudi road and Trichy Mimisal Road. 
It is only town  at around 30 km.  The main income for them is only agriculture. Paddy, groundnut and sugarcane  are the major crop.  Some fish catching point also available in the near by sea sore  namely Kattumavadi, Mimisel, Kottaipattinam.
2.Keeranur
3.Thirumayam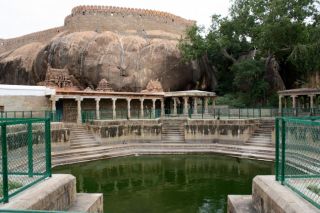 ·         Thirumayam is a place of historical importance. Miles before reaching the town one can see a fort atop a large hill. There are two famous rock-cut shrines, one for Siva and the other for Vishnu, adjacent to each other. The Siva cave temple is older among the two. The Vishnu temple is very venerated and considered second only to the temple at Srirangam . Closer to the rock-cut shrine of Siva is a large area dressed to take one of the largest inscriptions. The famous freedom fighter S. Sathyamoorthi was born in Thirumayam in 1887. 
4.Alangudi